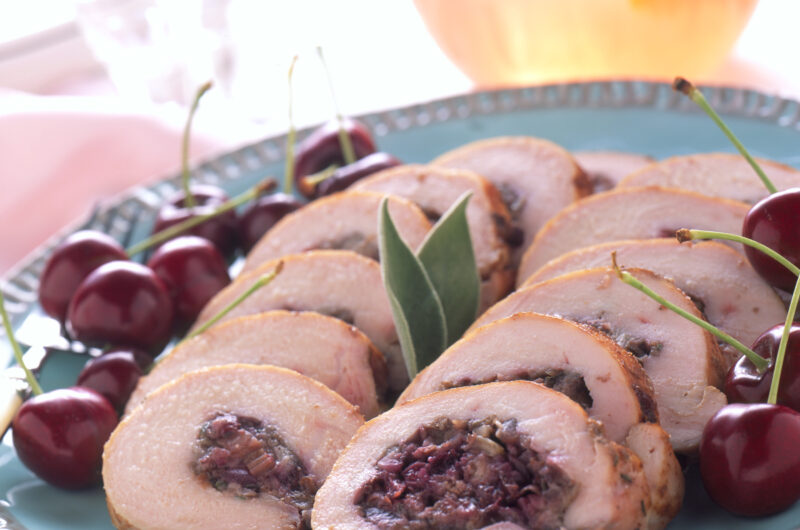 Ingredients
1

boneless skinless turkey breast half (about 1-1/2 lb.)

3

tsp

vegetable oil, divided

1/4

cup

each chopped celery and water chestnuts

2

tbsp

chopped onion

1

cup

coarsely chopped Northwest fresh sweet cherries

1

cup

coarse dried bread crumbs*

2

tsp

chopped fresh sage

1

tsp

chopped fresh rosemary

1/2

tsp

salt

1/4

tsp

ground pepper

paprika
Instructions
Cut turkey breast horizontally toward the thick edge to within 3/4-inch of the edge; do not cut through into two separate pieces. The resulting piece should be roughly rectangular in shape. Spread turkey on sheet of plastic wrap; cover with second piece of plastic wrap. Pound with meat mallet to form a rectangular piece, 1/2-inch thick. Heat 2 teaspoons oil in skillet and sauté celery, water chestnuts, and onion until crisp-tender. Add cherries, bread crumbs, sage, rosemary, salt, and pepper. Mix well. Remove top plastic wrap from turkey. Spread cherry mixture over turkey, leaving 1-inch uncovered along long edge. Roll tightly and secure with skewers or wooden picks or tie at 2-inch intervals. Brush or rub with remaining oil and sprinkle paprika over entire surface. Discard bottom plastic wrap. Bake on rack in baking pan at 325°F 50 to 60 minutes or to internal temperature of 170°F. To serve hot, let stand 10 minutes before slicing. To serve cold, cool whole turkey roll at room temperature and refrigerate; slice just before serving.

*Cube and process bread in food processor to coarse crumb stage. Dry at 300°F about 5 minutes or until crumbs are dry but not browned. Or spread crumbs on baking sheet and leave at room temperature overnight.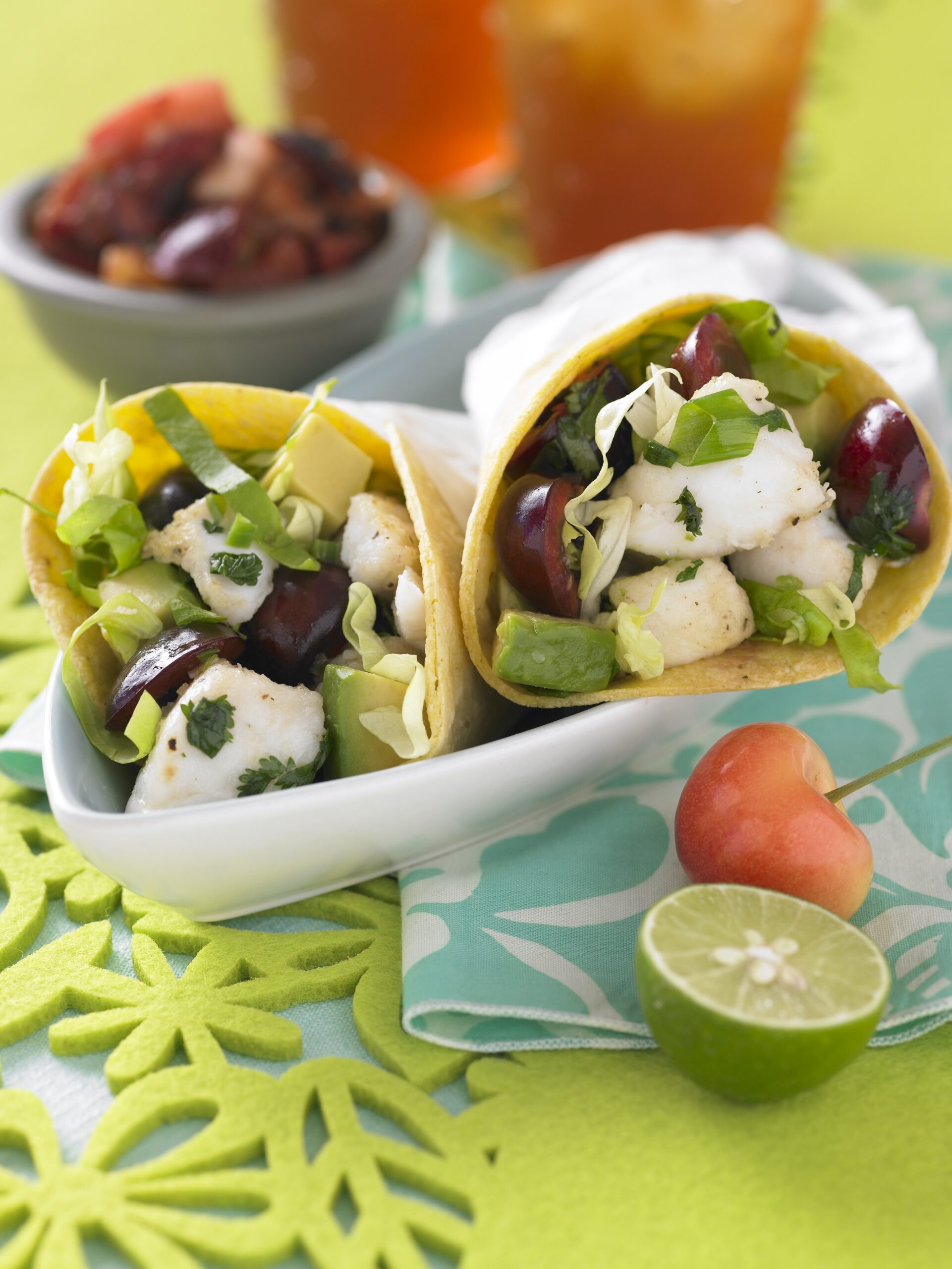 Ingredients
Cherry Salsa
1

cup

prepared salsa

1

cup

Northwest Cherries

chopped

1/4

cup

Sweet Onion

chopped

1-2

tbsp

Jalapeno pepper

finely chopped
1

lb

White fish filets

(halibut, cod, tilapia)

2

tbsp

Flour

1/2

tsp

Salt

1/8

tsp

Ground black pepper

1

tbsp

Olive oil

1

cup

Northwest Cherries

pitted and halved

1/4

cup

green onion

sliced

1/4

cup

cilantro

chopped

1

tbsp

Jalapeno Pepper

8

Corn tortillas

2

cups

Shredded lettuce

1

cup

Diced avocado
Instructions
Prepare Quick Cherry Salsa and let set for an hour.

Cut fish into 3/4-inch cubes. Combine flour, salt and pepper. Sprinkle seasoned flour over fish cubes and toss to coat pieces. Heat olive oil in a nonstick pan over medium-high heat and sauté fish until lightly browned and cooked. Add cherries, green onion, cilantro and jalapeno pepper; sauté about 1 minute or until cherries are thoroughly heated. If desired, wrap tortillas in microwave-safe plastic wrap and microwave at HIGH 1 to 1½ minutes. Divide fish and cherry mixture in 8 and spoon each portion to one side of each tortilla, top with 1/4 cup lettuce and 2 tablespoons diced avocados. Fold tortilla in half or roll into cone shape. Serve with Quick Cherry Salsa. Makes 4 servings.

Quick Cherry Salsa: Combine 1 cup prepared salsa with 1 cup chopped cherries, 1/4 cup chopped sweet onion and 1 to 2 tablespoons finely chopped jalapeno pepper*; mix thoroughly. Let stand at least 1 hour to allow flavors to blend. Makes 2 cups.

* For a milder sauce, substitute Anaheim chili peppers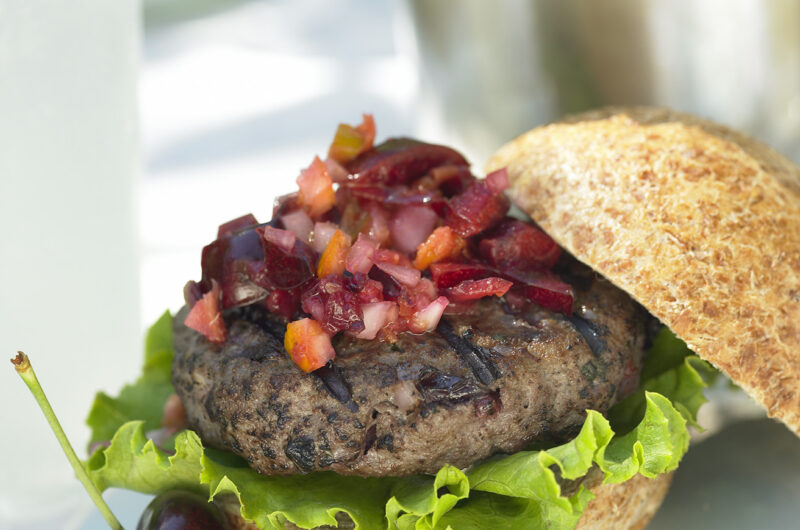 Ingredients
1

lb

lean ground beef

1/4

cup

Shallots

chopped

2

tbsp

Fresh Basil

chopped

1

clove

garlic

minced

1

tbsp

Worcestershire Sauce

3/4

tsp

Salt

1/4

tsp

Ground Black Pepper

4

Whole wheat hamburger buns

4

large lettuce leaves
Hot Cherry Orange Relish
1

cup

Northwest Cherries

Pitted and chopped

1/2

cup

Unpeeled Orange

Chopped

1/2

cup

Sweet Onion

Chopped

1

Jalapeno

Pickled or Fresh

Salt and Pepper to taste
Instructions
Combine ground beef, cherries, shallots, basil, garlic, Worcestershire sauce, salt, and pepper; mix well. Form meat into 4 patties. Barbecue patties over medium heat about 15 minutes, turning once halfway through cooking time, for medium doneness or cook to desired degree of doneness. Toast hamburger buns over barbecue grill if desired. Place lettuce leaf on bottom half of hamburger bun, beef patty on lettuce and top with hot cherry orange relish.